Porn Scenes Featuring Amber Lynn - Showing 1 - 0 of 0
There are no videos in the list.
Amber Lynn is a Porn Star from United States. She was born on September 03, 1963 in Newport Beach, California. Her real name is Laura Lynn Allen. She had two older brothers and an older sister who died at the age of two from a undetected heart defect. When Amber was three, her parents divorced after it was discovered her father had a family with another woman. Shortly after, Lynn's mother suffered a nervous breakdown and Lynn was placed in foster care where she was physically abused. At age 7, she was reunited with her mother. Shortly after, the two of them were involved in a car accident on the interstate; Amber Lynn was thrown clear of the car while her mother, who was nearly decapitated, died at the scene. Amber and her brothers were placed with her father and his new family; in total there were 8 boys and Amber in the house. At age 11, her father died of alcoholism and heart failure. As a teenager, Amber self-described her change as going from "pudgy kind of bucktoothed" tomboy to a "rocking little body". She started doing fitness modeling, bikini modeling and hot body contests. She relocated to Hollywood and became a regular at the clubs on Sunset Strip. Amber Lynn entered the porn industry in 1984. She got a photo spread in Penthouse magazine and soon after went to an audition for a movie where the director was a well-known porn veteran. There, in an effort to calm her nervousness, the director offered Lynn a pipe with some freebase cocaine. It was her first encounter with the drug; she later described the feeling of being as "It's as if the birds are singing. The light is brighter. All of a sudden I'm no longer this gangly nervous teenager. I'm sitting there going 'Oh wow!'". At one point Amber Lynn was the highest paid dancer on the strip club circuit, making $32,000 a week. In 1992, Amber Lynn dedicated her 28th birthday party at the Bel Age hotel in Beverly Hills, California to a benefit in honor of The Youth Aids Foundation of Los Angeles, an organization providing housing and assistance for helping runaways get off the streets and teenagers afflicted with HIV, which was about to go under. An August 1992 issue of The Los Angeles Times quoted her statement on page two: "Let's give them food clothing and shelter and we'll worry about role models later", alongside a shot of her holding a small infant girl, dressed in a formal gown. This was a breakthrough moment for how the adult industry was viewed by the mainstream concerning its crossover involvement in children's organizations, as never before had a children's organization knowingly accepted support from the adult entertainment industry. She is the sister of the late porn actor Buck Adams, who died from heart failure in 2008. The pair were forced to admit that they were siblings after discovering that they had been booked to perform a sex scene together in the mid-1980s. On Lynn's second porn film she met Jamie Gillis, who would become her long-time partner and the love of her life. Lynn's drug addiction ran for nearly two decades. She once said, "I started out drinking Ketel One and slicing off crystals of Peruvian rock. I wound up broken down, drinking Kamchatka out of a half-pint stashed in the bottom of my purse, with my crack pipe stuffed in the lining of my jacket". She then began the long process of turning her life around. Amber Lynn, as of September 2011, is now 11 years sober, and works sometimes as a PRA personal recovery assistant, helping in the detox of addicts, and is a real estate agent specializing in luxury homes. She was added to our database on March 25, 2013 and she currently has 5 porn movies at 3 Movs.
Amber Lynn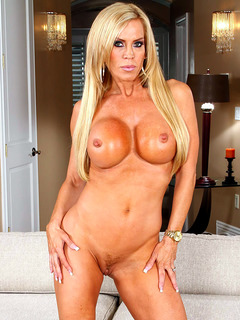 Country: United States
Province / State: -
Place of Birth: Newport Beach
Date of Birth: September 03 , 1963 (55)
Pseudonyms: Amber Lynn Lane, Laura Allen, Laura Adams
Eye color:
Height: 5 feet, 7 inches (170 cm)
Measurements: 36D-24-35
Weight: 114 lbs (52 kg) kg
Top xxx Searches