Porn Scenes Featuring Brittany Andrews - Showing 1 - 0 of 0
There are no videos in the list.
Brittany Andrews is a Porn Star from United States. She was born on August 13, 1973 in Milwaukee, Wisconsin. Her real name is Michelle Barry. Growing up Brittany had a reputation for standing out from the crowd as she packed a punk rock attitude and a Mohawk to match. She went through a rebellious phase during high school and she never actually graduated. Brittany worked in a Milwaukee beauty supply company before starting her career as an exotic dancer. After she turned 18 Andrews moved to Texas and landed a job in a strip club. In her early career she performed at clubs from London to Jamaica and beyond. While in Jamaica during a magazine photo shoot Brittany Andrews met super star Jenna Jameson. Brittany and Jenna spent quite a bit of time together on the island during their shoot and she learned a lot from Jenna about how the porn industry worked. When she returned to L.A. Brittany's new porn career was started. Her first porn movie role happened in a 1997. During the next several years she developed her own network of sixteen porn sites as well as her own production company. In December 2003, this hot pornstar was appointed to the Women in Adult (WIA) board of directors as the Talent Liaison. In addition to her adult film work she hosts several cable TV shows, including Playboy TV and Talking Blue, which she co-produces. At her self-owned Britco Pictures studio, Ms. Andrews starred in, directed and produced porn movies. In 2007 Brittany appeared on the popular mainstream program The Tyra Banks Show. She discussed the adult industry with a focus on web cam girls. Later that year she was inducted into both the AVN Hall of Fame as well as the Legends of Erotica Hall of Fame. She appeared eleven times on the Howard Stern Show from 1997 to 2002. In February 2008, Andrews retired from porn, and held a Presidents Day party announcing that she was moving to New York to attend film school at the New York Film Academy. However in 2010 Andrews returned to the porn business. The same year her production company released a short adult movie entitled Crumble. The world premiere was at the 2010 New York Independent Film and Video Festival, where it won the Audience Award for Short Film, Best Actress in a Short Film and Best Actor in a Short Film. The film ended up taking home six awards that year. She was added to our database on December 20, 2013 and she currently has 3 porn movies at 3 Movs.
Brittany Andrews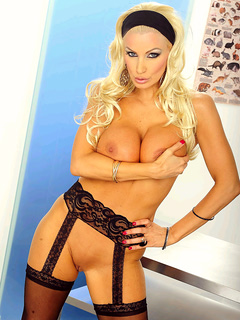 Country: United States
Province / State: -
Place of Birth: Milwaukee
Date of Birth: August 13 , 1973 (45)
Pseudonyms: Brittney Andrews, Miss Brittany Andrews
Eye color:
Height: 5 feet, 8 inches (172 cm)
Measurements: 34DD-25-36
Weight: 121 lbs (55 kg) kg
Top xxx Searches