Porn Scenes Featuring Charlie Laine - Showing 1 - 4 of 4
Charlie Laine is a beautiful porn model born Marion in 1984. As a young girl she was rather geeky. However her porn career has sufficiently changed her lifestyle. She has always been dreaming about some modeling and when the girl graduated from college she moved to Florida in 2002 to pose for some commercials of swimwear and sunglasses. However it was a total fail. She turned back and created a new model CV and sent it to various model agencies. Charlie Laine was contacted soon after her CV dropped into one of the email boxes and offered some contracts from Hustler, Penthouse and others. The decision was rather fast and the babe moved to LA. After several porn trials the babe loved the action and decided to stay in business.
The move was really difficult for the cutie. But she met so many people supporting her and comforting her. Right from the start the hottie appeared in the Penthouse magazine.
Sexy hottie Charlie Laine feels more comfortable working alone on camera. She says she is a bisexual hottie. In her porn career the babe though give preference to have solo sex or to enjoy horny girls and their pussies in rather softcore action. The cutie does not avoid big cocks and male sex however she thinks she will not be able to relax on camera. The girl strongly believes that if she will not be relaxed her fans and porn audience will feel her tension as well and the action will not be as wild and exciting as it might be. That is why the babe reveals all her fucking passion in lesbian movies being a master of making pussies soak and leak with hot fucking juice and to gush in orgasms.
Nasty hottie loves some kinky sex with beautiful women as well. That is why you can find in her professional profile lots of fetish, BDSM, wrestling and catfighting titles.
Awesome hottie Charlie Laine worked for a TV show interviewing people in the street about their sex preferences and convincing them to join her in studio for some sexual fun live. The project was unique and was fast copied by other TV production companies, but none of the spin-offs was as successful as the initial project.
In 2005 the hottie signed a non-exclusive contract with pro Metro Studios and Astrux Entertainment Studio, but she loved working with the producer as it turned out to be rather loyal to her.
In 2007 Charlie Laine co-hosted Internet show considering some sex aspects. As you can see the hottie loves everything that considers sex. The year 2009 brought the hottie AVN awards for best all girls three way scene. In 2010 the hottie joined the Penthouse as a production manager working in the crew and not on camera and applying her experience she got in her career to produce really hot and emotional porn sessions.
Her family appeared very supportive about her porn choice and future career. But Charlie Laine dreams to study at college and to finally create her own family in which she hopes to be a mom. Today the hottie gives sexual education with best of her movies to the greatest porn fan community day after day!
Charlie Laine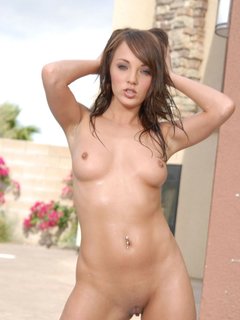 Country: United States
Province / State: WI - Wisconsin
Place of Birth: Marion
Date of Birth: January 31 , 1984 (35)
Pseudonyms: Charlie Lane, Brandy Sapphire, Tiffani Rocks, Raina Lee, Adel Miller
Eye color: Blue
Color Hair: Brown
Height: 163 cm - 5 feet and 4 inches
Measurements: 32B-23-33
Weight: 46 kg
Top xxx Searches