Porn Scenes Featuring Gracie Glam - Showing 1 - 7 of 7
Gracie Glam is an all natural super hot porn star, born in North Carolina. She has always been dreaming to get engaged into fashion industry and thus made her way to the Fashion Institute of Design and Merchandising in LA. However college life turned out to be too expensive and the babe had to put her studying aside and to earn some cash for living. Porn industry had always attracted the babe and she gave it a try. Having very nice and tempting slim body the girl understood that she had to benefit from this nature gift. She gained popularity rather fast and now she is a recognized porn model in the highest demand. Her first appearance in pro porn movie was just in 2009 in "Barely Legal 98" in which the girl showed up twice getting hardcore fucked and masturbating her sweet pussy on camera. The Hustler Video studio put great stakes on the girl and won as she was absolutely gorgeous. The most peculiar thing about this brunette hottie is that she is able to keep her childish innocence even entering the MILF age. The film "Curvy Girls 4" by Elegant Angels studio brought her another portion of success. In the film the girl got kissed, licked and fingered before a huge hard cock penetrated all her holes. To be honest the film did not contain any anal scene however the couple and the crew worked so well that the fans even did not notice that there was no anal fuck at all in the scene.
Gracie Glam loves active leisure. When out of work she spends much time at the sunny beaches luxuriating her gorgeous body in warm sun beams. The hottie lives a very active social life appearing on prominent events with celebrities and renowned people. The babe continues her studying and attends college courses in intervals in her porn career as it is rather exhausting to work with her head and pussy to the fullest.
In 2010 she was invited to act in the film "Buttwoman vs Slutwoman" where she got the fifth and the final actions. However the most prominent year in the career of Gracie Glam was the year 2011 when she had her first anal scene on camera. The film was "Gracie Glam: Lust" by Elegant Angel Studio. During the film the porn hottie got interviewed and confessed that she felt a bit nervous about her first anal fuck on camera. Her hot partner kissed and sucked all her fucking holes and hardcore pounded her pussy before a short slow down. He easily penetrated her tight ass and warmed it up a bit with few slow but deep strokes. After the warming up, Gracie Glam got her ass destroyed and creampied. Gracie Glam is still an active porn actress having already shot about 250 porn scenes with all sorts of pussy, mouth and ass action! In 2011 the hottie has got her first award by AVN which greatly added to her popularity not only among fans but among pro porn directors as well.
Gracie Glam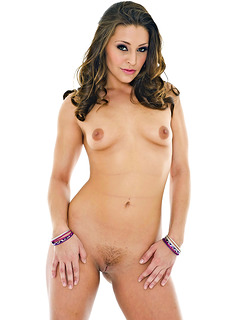 Country: United States
Province / State: NC - North Carolina
Place of Birth: Raleigh
Date of Birth: September 30 , 1990 (28)
Pseudonyms: Kelly Atera
Eye color: Green
Color Hair: Brown
Height: 165 cm - 5 feet and 5 inches
Measurements: 32B-26-33
Weight: 55 kg
Top xxx Searches