Porn Scenes Featuring Stevie Shae - Showing 1 - 3 of 3
Born in sunny California Stevie Shae is a Caucasian American with blonde hair and deep blue eyes. Her perfect fit body is just amazing excellently fitting any camera it being fashion or porn shoot. Sexy blonde hottie has a few tattoos on her body. One of them is angel wings on her sexy upper back. She started her porn career rather early having a few years of modeling experience in advance. Even in her innocent modeling she tried hard to express all her natural sexuality and fucking enticement. She moved slowly towards real porn business. After she moved to LA she understood it was a perfect chance to try her gorgeous body not only in nude modeling but in real porn photoshoot with all her holes plugged and fucked hard. Her first porn casting turned out to be a real hardcore fucking sessions meanwhile it was intended to be a just simulated innocent sex action. Though Stevie Shae performed only in solo in her previous modeling career, she did her best to show off her skills in the trial. She did her best to orgasm and to make her partner orgasming in the action. In a few months the babe was toughly engaged in regular hardcore porn shooting.
Her first hardcore fucking scene was in the movie "Amateur Angels 23". Stevie Shae appeared in the second scene of the film with a famous porn actor Bruce Venture. Sexy hottie teased her pussy for her fucker and turned on them both. After solo manual stimulation the bitch gave the fucker an incredible oral pleasure almost making him cum in her mouth. The couple finally gets down to hardcore fucking business exchanging juicy cumshots.
Awesome babe Stevie Shae eagerly shares her private life in her interviews. She loves to speak about her childhood in San Jose. Horny babe admits that she was raised rather properly and her parents did their best to give her proper education. But it was their choice, not hers. Cute porn babe adores coming back home and feeling as back in childhood.
Ms. Shae enjoys her porn career getting the maximum of it. The biggest surprise for her in adult entertainment industry has become meeting many new interesting people. Some of them become really close to her. Hot babe Stevie Shae chooses porn projects very carefully. She still dare not try hardcore kinky sex. She does not want to put a mask of a person in the action whom she is not. The prime porn company the girl gives preference to work with is Digital Playgrounds. The babe claims the crew to be rather professional and easy going.
Stevie Shae is still acting in the porn industry. She has already over 90 titles in her porn portfolio and the babe seems not to stop. Her growing popularity inspires her on further steps in her career and self improvement. You can find her best collection of hardcore fucking scenes and enjoy her in the most various fucking scenes!

Stevie Shae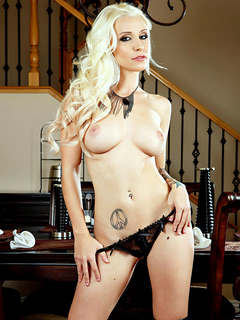 Country: United States
Province / State: CA - California
Place of Birth: San Jose
Date of Birth: October 23 , 1992 (26)
Pseudonyms: Blondie Boom, Stevie Shay
Eye color: Blue
Color Hair: Blond
Height: 165 cm - 5 feet and 5 inches
Measurements: 34C-26-34
Weight: 51 kg
Top xxx Searches